About This Station
The station is powered by a Davis Vantage Vue weather station. The data is collected every 2.5 seconds and the site is updated every 5 minutes. This site and its data is collected using Weather Display Software. The station is comprised of an anemometer, a rain gauge and a thermo-hydro sensor situated in optimal positions for highest accuracy possible at Latitude 41.052 and Longitude -73.853. The Website was first Started on May 20, 2010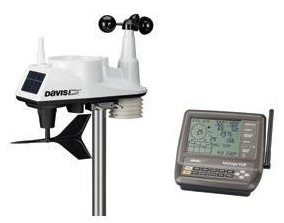 About The Village of Tarrytown, New York
Tarrytown is a village in the Town of Greenburgh in Westchester County, New York, United States. Situated on the eastern shore of the Hudson River, in an area called the Tappan Zee, (Tappan for the Tappan Indians who once lived in what is now Rockland County, and Zee meaning sea in the Dutch language), lies the village of Tarrytown, a village rich in history and of course, local legend. It is a village of rolling hills, twenty-five miles north of New York City. To the north of Tarrytown is the village of Sleepy Hollow (formerly "North Tarrytown"), to the south the village of Irvington and to the east unincorporated parts of Greenburgh. The Tappan Zee Bridge crosses the Hudson at Tarrytown, carrying the New York State Thruway (Interstates 87 and 287) to Nyack and points upstate. The first residents of what eventually became Tarrytown were the Weckquaesgeeks Indians. The Weckquasgeeks were a friendly tribe that were closely related to the Wappinger Confederacy and further related to the Mohicans. They raised corn, squash, beans, and tobacco. They fished the Hudson for shad, oysters and other shellfish. They hunted the area for deer and black bear. They also trapped for fur and hides for clothing, and later traded these with the Dutch. Their principle settlement was at the foot of Church Street at place they called Alipconk,or the Place of Elms.
For more about the history of Tarrytown visit Tarrytowngov.com.
About This Website
This Hobbyist Meteorologist Takes Local Weather Very Seriously http://tarrytown.patch.com/articles/hobbyist-meteorologist-takes-local-weather-very-seriously.
This site is a template design by CarterLake.org with PHP conversion by Saratoga-Weather.org.
Special thanks go to Kevin Reed at TNET Weather for his work on the original Carterlake templates, and his design for the common website PHP management.
Special thanks to Mike Challis of Long Beach WA for his wind-rose generator, Theme Switcher and CSS styling help with these templates.
Special thanks go to Ken True of Saratoga-Weather.org for the AJAX conditions display, dashboard and integration of the TNET Weather common PHP site design for this site.
Special thanks go to Chris of West Wareham, Ma Weather for Setting up and Creating My Website.
Cloud base graphic courtesy of Bashewa Weather
Template is originally based on Designs by Haran.
This template is XHTML 1.0 compliant. Validate the XHTML and CSS of this page.